The first hospital in Monroe County was formed in 1909 at the corner of South Clinton and Second Avenue West. It was a former boarding house owned by Dr. Robert P. Miller. In later years, Dr. T.E. Gutch operated the facility then known as the Miner's Hospital. This hospital closed during World War II due to a shortage of personnel and supplies.
In 1946, after some reconstruction, the hospital was re-opened by Dr. R.A. Smith and was known as Smith Hospital. Monroe County residents gradually grew out of the Smith Hospital. In 1954, a new hospital was built and equipped on Benton Avenue West at a cost of $115,815. The Smith Hospital closed in 1957.
In 1957, a second wing was added to Monroe County Hospital for $133,100. The new wing increased patient beds from 14 to 28. It also expanded the surgical and laboratory departments. An obstetrical unit was added in 1959. Seven years later, in 1966, the South wing was added for a cost of $56,803, expanding total capacity to 46 beds.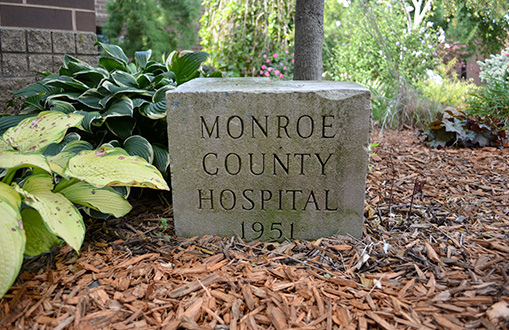 In 1977, an advisory board consisting of Dr. Ray Avera, Dr. D.W. Cunningham,
Dr. Don Orelup, Sue Palmer, Henry Kolling, Lavern Leigh, A.J. Westendorf, Robert Kaldenberg, James Crall, Raymond Dhority, Carol Sovern, and Robert Larson were formed to develop long-range plans for health care in Monroe County. The advisory board recommended a bond issue to build a $5,350,000 facility. The bond issue passed with 78% voter approval. In July 1980, construction began on the $5.35 million facility. The doors opened on June 10, 1982.
Due to increasing outpatient utilization, an outpatient clinic was added in 1988. The clinic was funded entirely by a generous donation from Edmund and Merron Morris. The Morris Clinic provided exam rooms for specialists from surrounding areas to treat patients.
In 1993, a physician's clinic was constructed, adjoining the North side of the hospital. This addition provided space for four physicians and an optometrist.
A three-phase construction project was initiated in 1997. The first phase included a face-lift for the hospital's interior. The second phase included construction to add an additional physician's office, as well as 3,000 square feet of office and classroom space to the east side of the hospital. The third phase was a complete renovation of the outpatient area.
Through the vision of its community leaders, there has been a progressive approach to providing current technology in modern facilities. For over 100 years, health care services have been provided for the residents of Monroe County. We are very proud of our building we have today and the culture inside.