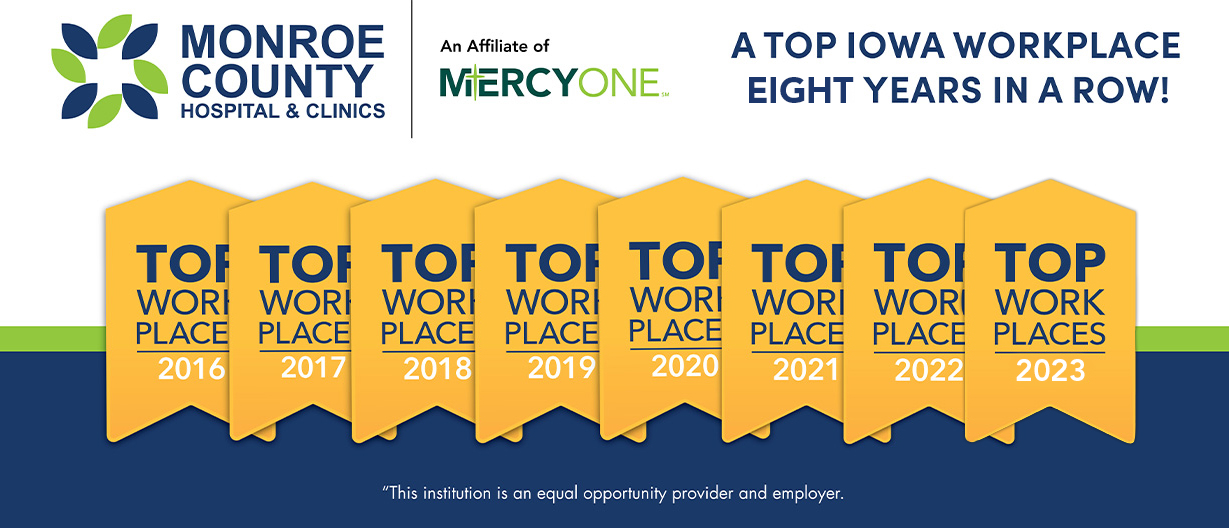 For the eighth year in a row, Monroe County Hospital & Clinics has been recognized as one of the Top Workplaces in Iowa based on feedback from employees. This recognition is a reflection of the relationships employees have with each other and the passion they have for serving patients. Employees are the ones that drive our success in providing high quality, passionate care for our patients and each other. If you strive to work in this type of environment, we want you on our team!
Operational Excellence
At Monroe County Hospital & Clinics, we believe that all employees and physicians are team members who must function together to help provide an outstanding care to our patients and visitors. We each represent the Hospital & Clinics, not only inside of these walls, but also within our community.
We strive to be recognized for our unparalleled customer service, commitment to safety, and the relentless pursuit of value we give to each of our patients. Monroe County Hospital & Clinics has received national recognition for providing high level satisfaction in patient service; this recognition comes from continually meeting and exceeding expectations.

---
The Hiring Process
Once an application is submitted through our online portal, you will receive a notification ensuring your application has been secured and the initial screening process will begin taking place. If you submitted your resume to hr@mchalbia.com your resume will be screened and you can expect to receive an email notification on next steps. If you have cleared the initial screening process, the human resources department will be in contact to schedule an interview. An interview will include a member from human resources, the department manager, and a peer team. The peer team includes a group of team members that you would be working closely with. This group will make the final recommendation for hire based upon their interview with the applicant.
The Monroe County Hospital & Clinics Standards of Behavior
The Standards of Behavior were developed by team members with the intent of creating a system of operational excellence. These standards serve as the foundation of each team member's employment and will be a key part of one's evaluations.
Thank you for your interest in Monroe County Hospital & Clinics. If you believe you would be a great asset to our team, please read and agree to the Standards of Behavior then you can complete your application for employment.  The Standards of Behavior will be listed on the first page of your application.
DCI checks required.  E.O.E.
Benefits
Monroe County Hospital & Clinics provides a variety of benefits to eligible employees.
Benefits include:
Medical
Dental
Vision
Iowa Public Employee Retirement System (IPERS)
Health Savings Accounts with employer contribution
Flex spending accounts
Paid time off
Term life insurance
Long-term disability
Short-term disability
Deferred compensation plan
Voluntary life insurance
Guardian Voluntary Benefit
Education assistance after six months of service
Employee assistance program
Wellness activities
Health care coverage will be effective on the first day of the month following employment.
Summary plan descriptions are available in the Human Resources department.
---
Career Opportunities