Visitor Restrictions
In effect as of December 22, 2021
Monroe County Hospital & Clinics (MCHC) is committed to the safety of our patients, visitors, colleagues, physicians, and the communities we serve. Visitor restrictions are updated as needed to help protect the safety of patients, colleagues, and community.
Visitor hours are 7:00am–7:00pm daily
Effective December 22, 2021 patients are allowed up to one (1) visitor at a time. Visitors may swap in and out, but this exchange must take place outside the facility. ALL visitors must check in with MCHC staff. You may not visit more than one patient, unless approved by administration. Visitor hours are between 7:00am and 7:00pm each day.
COVID-19+ patients or patients under investigation are allowed (1) visitor/caregiver/dependent per calendar day. That visitor must be at least 12 years of age. Personal protective equipment (PPE) will be offered prior to entering patients room.
Exceptions are permitted for patients meeting certain or compassionate care criteria:

Children (minor) admitted to the hospital
Patients receiving end-of-life care
Developmentally/Cognitively Impaired adults
All visitors are required to:
Be at least 12 years of age, with the exception of extenuating circumstances, such as end-of-life.
Be free of signs of illness and will be screened for symptoms of COVID-19 upon entry to MCHC.
Adhere to COVID-19 precautionary guidelines including proper hand hygiene and mandatory masking at all times, regardless of vaccination status.
Stay in their respective patient's room, as appropriate, and only be outside of this area during entrance, exit, or if food is obtained from the cafeteria, gift shop or vending.
All visitors masks should always remain on while in the patient's room.
During some procedures, visitors may be asked to leave.
We do recognize that patient support from a family member or friend contributes to patient experience, safety, and healing. We desire to balance these important elements with the need to protect patients and colleagues from unnecessary exposure to COVID-19. As changes occur with our policy, based on our community needs, we encourage you to phone, video conference and stay in touch with your loved one.

Screenings and Entry
All patients and visitors at Monroe County Hospital & Clinics must complete a screening prior to entry. After screenings, patients and visitors will be directed in the right direction.
Masks are Required
Masks are required to be worn by everyone facility wide, except for children under the age of two, patients and visitors with difficulty breathing, or patients who are unconscious, incapacitated, or otherwise unable to remove a mask without assistance. Masks are available upon entry.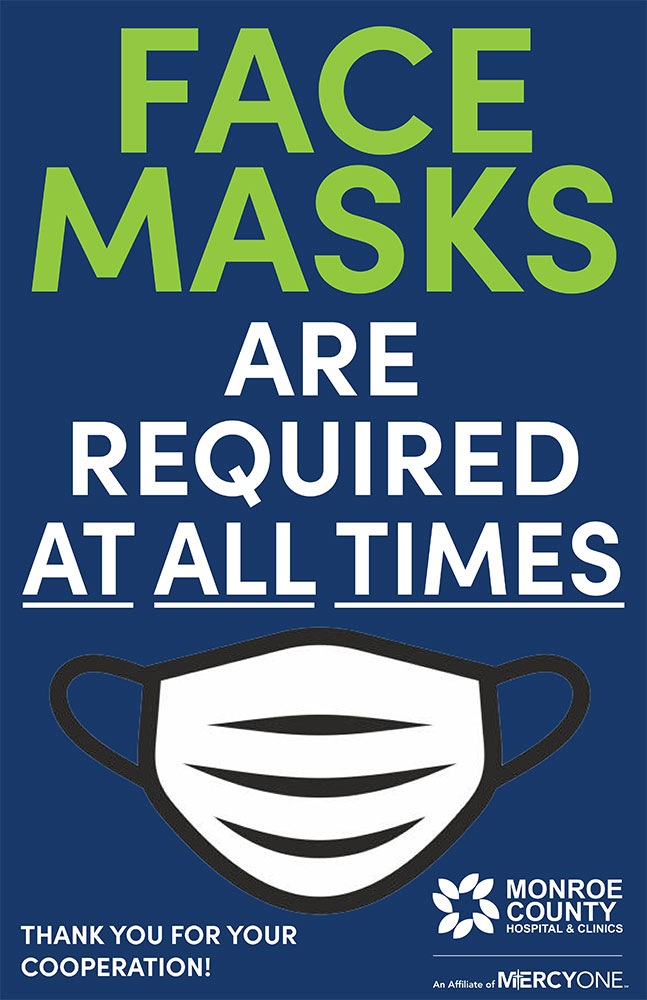 To request a kit or pick up a kit:
Increased demand for testing is putting additional strain on health care clinics and emergency rooms. To ensure that Iowa's health care resources are available for those who need care, Iowa Department of Public Health recommends that Iowans consider the following testing options:
Iowans with mild symptoms or who have been exposed to a COVID-19 positive individual should seek testing in a health care setting or use Test Iowa at home.
Iowans seeking testing for travel or other proactive purposes should purchase a home test kit from a retailer or pharmacy, or schedule a pharmacy appointment.
Individuals experiencing severe symptoms or those who are at high risk of serious illness should seek medical care.
Learn more about Monroe County, Iowa, please visit:
Monroe County Public Health
1801 S. B. St., Albia, IA 52531
P: 641-932-7191
Best Practices & Reminders
MCHC encourages the community to follow the best practices from the Centers for Disease Control and Prevention (CDC), Iowa Department of Public Health (IDPH), Monroe County Public Health, Iowa Department of Homeland Security and Emergency Management and State Hygienic Laboratory to help prevent the spread of all viruses:
Stay home if you are sick.
Avoid close contact with people who are sick.
Cover your nose and mouth when you cough or sneeze.
Thoroughly wash your hands with soap and water for at least 20 seconds, especially after going to the bathroom; before eating; and after blowing your nose, coughing, or sneezing.
If soap and water are not readily available, use an alcohol-based hand sanitizer with at least 60% alcohol. Always wash hands with soap and water if hands are visibly dirty.
Avoid touching your eyes, nose and mouth.
Disinfect surfaces and objects using a regular household cleaning spray or wipe.