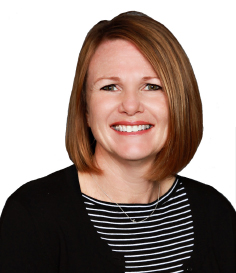 As a Coding/Billing Specialist for Monroe County Hospital Medical Clinic, Julie codes clinic medical visits daily and handles all denied insurance claims in attempt to get them paid.
"I enjoy coming to work and know I am working in a field that helps people in some way every day," stated Julie. "Helping others is what I have always enjoyed." When Julie and her husband moved back to the Albia area, she knew she wanted to continue working in the healthcare field and she had hoped MCHC had a job opening for her. Dr. Haas and Dr. Shehan gave her the opportunity and she is forever grateful for that. "Although, in the past 26 years I have seen and been through many changes, it has been a great place to work while raising my family. Family is very important here and I truly believe that brings comfort to many employees," stated by Julie.
Julie enjoys spending time with her family and friends, traveling and attending sporting events. "Being a Mom has made me a stronger person. Children always need a parent in some way and I have tried to make the most of every experience I have had with them, be it good or not so good," stated Julie.
Julie describes herself as dependable, loyal and caring. MCHC is very thankful to have a dependable and loyal employee. Julie has been with MCHC for 26 years as of June 2019. She is a top notch employee who strides to do her best every day. "I have learned that no matter what challenges you face in everyday life, there are always going to be more challenges ahead. Keep the faith and face each one with an open mind," stated Julie.
MCHC is a trusted provider of high-quality, local health care to the residents of Monroe County, IA and surrounding counties. To learn more, please visit www.MCHAlbia.com.