Monroe County Hospital & Clinics (MCHC) has been awarded as the third Top Workplace 2021 by Iowa Top Workplaces in the mid-sized business category. The list is based solely on employee feedback gathered through a third-party survey administered by employee engagement technology partner Energage LLC. The anonymous survey uniquely measures 15 culture drivers that are critical to the success of any organization: including alignment, execution, and connection, just to name a few.
"During this very challenging time, Top Workplaces has proven to be a beacon of light for organizations, as well as a sign of resiliency and strong business performance," said Eric Rubino, Energage CEO. "When you give your employees a voice, you come together to navigate challenges and shape your path forward. Top Workplaces draw on real-time insights into what works best for their organization, so they can make informed decisions that have a positive impact on their people and their business."
In addition to being ranked third, this is MCHC's sixth year in a row on the Top Workplace list!  "I am both very proud and humbled for Monroe County Hospital & Clinics to be recognized as a Top Workplace for the sixth year in a row," said Kaylee Siebrecht, Director of Human Resources, MCHC. "Healthcare workers across the country have faced unfathomable challenges in the last year and a half. It hasn't been easy, but with this award, it gives me great pride that MCHC employees are still continuously focused on providing the best care to our patients in a workplace that they enjoy. Research shows that higher employee engagement equals great patient satisfaction, which I believe we see each and every day."
MCHC also ranked top place out of all organizations for having the "most clued-in senior management." "I am extremely elated about our Top Workplace honor. To receive this award six years in a row is a significant accolade and speaks to our employees unwavering commitment. Obviously, 2020 was a challenging year as nothing about the year was business as normal. However, our employees all rose to the call and continued to provide high quality, patient focused care. I am also extremely proud that our senior leadership team received the "most clued-in senior management" of all 130 participating organizations," said Veronica Fuhs, Chief Executive Officer, MCHC.
***
About Monroe County Hospital & Clinics
Established in 1951, Monroe County Hospital & Clinics (MCHC) is a trusted provider of high quality, local health care to the residents of Monroe County, IA and surrounding counties. Our highest mission is a promise to create an excellent health care experience. We believe it must be our number one priority to ensure the personal safety and security of each customer and employee. Our full-service, primary care hospital offers an array of inpatient and outpatient health services including surgical, clinical, specialty, physical therapy, cardiac rehabilitation, occupational therapy, emergency, sleep studies, pain management services and much more. MCHC is a MercyOne Affiliate, which allows us to partner with MercyOne-Des Moines through a management and CAH agreement. MCHC Board of Trustees maintains complete control of MCHC operations, while taking advantage of the cost savings, management expertise and educations offerings available to a larger, tertiary facility such as MercyOne. Visit www.mchalbia.com for more information.
Awards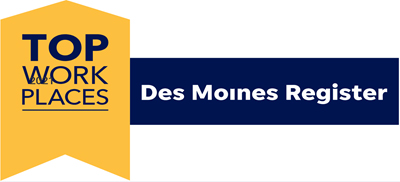 About Energage
Making the world a better place to work together.TM

Energage is a purpose-driven company that helps organizations turn employee feedback into useful business intelligence and credible employer recognition through Top Workplaces. Built on 14 years of culture research and the results from 23 million employees surveyed across more than 70,000 organizations, Energage delivers the most accurate competitive benchmark available. With access to a unique combination of patented analytic tools and expert guidance, Energage customers lead the competition with an engaged workforce and an opportunity to gain recognition for their people-first approach to culture. For more information or to nominate your organization, visit
energage.com
or
topworkplaces.com.