Three-Ways Hot Cocoa Mix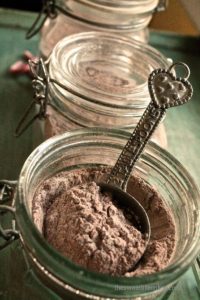 1 cup instant nonfat dry milk powder, 1 cup sugar, 1/2 cup Dutch-process cocoa powder, 1/4 cup dried egg whites, 1 1/2 tsp. ground cinnamon, 1/4 tsp. ground allspice, 1/4 tsp. ground clove, 1/4 tsp. ground ginger, 1/8 tsp. ground black pepper, 6" cinnamon sticks (optional) for garnish, Black tea bags
In a mixing bowl, vigorously whisk together the dry milk powder, sugar, cocoa, egg white powder, cinnamon, allspice, clove, ginger, and black pepper, making sure all the tiny clumps are broken up. Spoon the mixture into a jar, and seal tightly.
This mix is intended to be used with 1 percent milk to make hot chocolate, or a tea bag for making chai. If giving this mix as a gift, include instructions for using 1 to 2 teaspoons, according to taste, per serving.
Makes 2 1/2 cups mix.
For chai, brew one tea bag in a cup or mug of hot milk. Remove the tea bag and stir in the mix. Add a cinnamon stick as a stirrer, if desired.
For hot chocolate, place the mix in a mug and gradually stir in hot milk. Add a cinnamon stick as a stirrer, if desired, or 2-3 drops of vanilla extract, or 1 drop of almond extract.
For Hot Mocha, mix 1/4 teaspoon instant espresso into the Hot Chocolate.
Per serving of hot chocolate: 112 calories, 3 g. total fat (2 g. saturated fat), 24 g. carbohydrate, 8 g. protein, less than 1 g. dietary fiber, 129 mg. sodium.