Pomegranate-Apricot Sparkler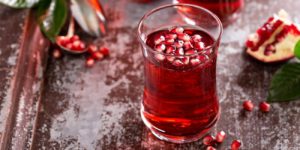 Tangy pomegranate juice is full of phytochemicals and makes a perfect base for a dazzling holiday punch.
1 1/2 cups cold pomegranate juice 1 1/2 cups apricot nectar 1 cup cold seltzer, lime-flavored if desired Ice 1 fresh lime, quartered or kiwi fruit, peeled and sliced (optional)
In large pitcher, combine first 3 ingredients. Pour into ice-filled glasses. Garnish each glass with lime or kiwi wedge, if desired.
Makes 4 servings.
Per serving: 105 calories, 0 g total fat (0 g saturated fat), 27 g carbohydrates, <1 g protein, <1 g dietary fiber, 14 mg sodium.