Red Velvet Cupcakes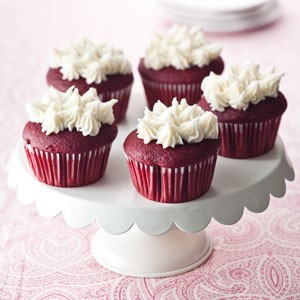 Prep: 20 Minutes
Cook: 25 Minutes
Ingredients
1 1/4 cups cake flour
1/2 cup plus 2 tablespoons all-purpose flour
1 cup sugar
3/4 teaspoon baking soda
1/4 teaspoon salt
2 tablespoons unsalted butter, melted
1/4 cup canola oil
1 cup low-fat buttermilk
2 tablespoons unsweetened cocoa
2 tablespoons red food coloring
1 large egg
1 teaspoon pure vanilla extract
Preparation
Preheat oven to 350°. Place 12 muffin cup liners in muffin tin.Place flours in a bowl. Sift sugar, baking soda, and salt into bowl.
Whisk butter and oil in a bowl. Add buttermilk and next 4 ingredients (through vanilla), whisking until well-combined. Add dry ingredients to wet.
Divide batter evenly among liners, and bake in middle of oven about 25 minutes or until wooden pick inserted in center comes out clean. Cool 5 minutes; transfer to a wire rack to cool.
Pipe frosting on cakes with a star-tipped pastry bag.
Skinny it up! Skip the frosting for a 216-calorie treat.
Nutritional Information
Calories 390
Fat 16.1 g
Satfat 6.7 g
Monofat 5.9 g
Polyfat 1.9 g
Protein 6.7 g
Carbohydrate 55.9 g
Fiber 0.8 g
Cholesterol 52 mg
Iron 1.6 mg
Sodium 282 mg
Calcium 76 mg