Matcha Gingerbread Cookies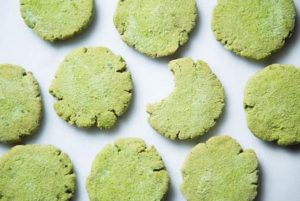 Yield: 1 dozen cookies
Prep Time: 10 minutes
Cook Time: 10 minutes
Total Time: 20 minutes
Ingredients
1 cup sweet rice flour
½ cup finely ground almond flour
½ cup chestnut flour
1½ teaspoons matcha tea, divided
¾ teaspoon baking soda
1 teaspoon ground cinnamon
1 teaspoon kosher salt
¼ teaspoon ground allspice
¼ teaspoon freshly ground black pepper
⅔ cup, plus ½ cup, sugar, divided
⅓ cup mashed avocado (½ medium avocado)
⅓ cup olive oil
2 tablespoons grated fresh ginger
1 teaspoon vanilla extract
½ cup roughly chopped candied ginger
Directions
Preheat the oven to 375° and line a sheet tray with parchment paper.
In a medium bowl, whisk together the flours, 1 teaspoon of the matcha tea, the baking soda, cinnamon, salt, allspice and pepper, and set aside.
In a large bowl, beat ⅔ cup of the sugar with the avocado, olive oil, fresh ginger and vanilla until creamy and smooth, 2 minutes.
Beat the flour mixture into the sugar mixture in 2 additions and, when almost combined, stir in the candied ginger. It will be a thick, tacky dough.
Combine the remaining sugar and matcha on a large plate. Divide the dough into 12 even pieces and roll in between your palms, forming a compact dough ball. Press each ball into the matcha sugar and flatten to a ¼-inch-thick disk, coating the bottom and sides with the sugar. Place onto the prepared baking sheet, sugar-side up, and spaced evenly apart. (Note: The cookies won't spread during baking.)
Bake, rotating halfway through, for 8 to 10 minutes. Let cool on the sheet tray for at least 5 minutes, and serve.