Pumpkin-Orange Muffins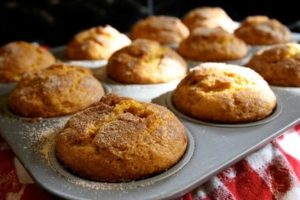 Canola oil spray
1 egg
1/2 cup skim milk
1/2 cup canned pumpkin
1/4 cup canola oil
1 tsp. dried grated orange zest
1 1/2 cups unbleached flour
1/2 cup sugar
1 tsp. baking powder
1 tsp. cinnamon
3/4 tsp. nutmeg
1/4 tsp. salt
Preheat oven to 375 degrees. Spray muffin tin lightly with spray oil.
In a medium bowl, beat egg, milk, pumpkin, oil and grated orange zest, mixing well.
In a separate bowl, mix together dry ingredients. Mix into pumpkin mixture.
Spoon batter into greased muffin tin, filling each 1/2 to 2/3 full, and bake until pick inserted in middle of muffin comes out clean, about 20 to 25 minutes.
Remove from oven and set on wire rack to cool, about 5-10 minutes. Remove muffins and allow to cool completely on rack. Serve immediately or store in plastic bag or other sealed container, but do not refrigerate. (If making more than one batch, extras can be frozen.)
Makes 9 muffins.
Per serving: 191 calories, 7 g. fat (less than 1 g. saturated fat), 29 g. carbohydrate, 4 g. protein, 1 g. dietary fiber, 134 mg. sodium.