Lite Hummus Dip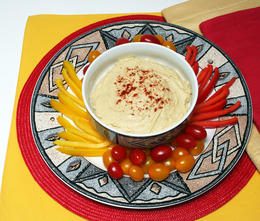 Ingredients:
1 can (15 oz.) chick peas, rinsed and drained, 1-2 cloves finely minced garlic (or to taste), 1 Tbsp. sesame tahini, 6-8 Tbsp. reduced sodium vegetable broth or water, 1-2 Tbsp. fresh lemon juice, 1/2 tsp. extra virgin olive oil, Salt and freshly ground black pepper, to taste, Hot pepper sauce (optional) Paprika
Instructions:
In blender or food processor, place peas, garlic, tahini, broth or water, lemon juice and oil. Blend on high speed until mixture is smooth. Add salt, pepper and hot pepper sauce to taste, if desired. Pour mixture into serving bowl. Dust lightly with paprika. Serve with cut-up raw vegetables and pita bread. Makes 1 1/4 cups
Nutritional Information:
Per 2 tablespoons: 50 calories, 2 g fat (<1 g saturated fat), 7 g carbohydrate,2 g protein, 2 g dietary fiber, 195 mg sodium.