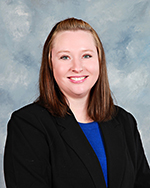 Monroe County Hospital & Clinics is excited to announce the hiring of Jessica Hoepker as its new CFO (Chief Financial Officer).
Prior to coming to MCHC, Jessica was the Director of Revenue Cycle for Planned Parenthood of the Heartland in Des Moines, a position she has held for the past year. In her position she was responsible for 28 health centers in four states. Prior to that, she was the Revenue Cycle Consultant for Healthcare Technologies Inc. in Northglenn Co. She has a BA in Anthropology from The University of Denver in Denver Co; an MBA from Western Governors University in Salt Lake City; and is currently completing the requirements for a Doctorate in Business Administration through Walden University.
Todd Willert, CEO, adds "I was impressed with Jessica's breadth of knowledge and commitment to education. Her revenue cycle experience will be a great asset to us. In addition she is a great fit for Monroe County Hospital."
Jessica, her husband Jake, and their two daughters, Gretchen (4) and Daphne (3) currently live in Ankeny and will be relocating to Albia in the near future.