Albia, Iowa, October 21, 2021 – The Monroe County Health Care (MCHC) Foundation held their first Glow Ball Tournament on Saturday, October 2, 2021 at the Albia Golf & Country Club. This event was very well attended, sponsored and was an overall success!
This event included nine daytime holes, supper catered by Schroeder Grill, a silent auction ending the evening with six holes of glow ball. The winning team received a stainless-steel bed pan!! It was a very special prize received by Drew Schofield, Dylan Wilson, Kagan Post and Austin Post. Congratulations!!
The MCHC Foundation would like to give a special thanks to all participants, silent auction donors including InspireU, L&C Photos, Honey Creek The Preserve on Rathbun Lake, Golf 22, Brick Street, The Look Nook, Iowa Hospital Association, Ottumwa Radio and Mustard Seed, and sponsors including Monroe County Hospital & Clinics, Ottumwa Radio, Graham Construction, Invision Architecture, Edward Jones, ICE Technologies, Chariton Valley Electric, Peoples State Bank, Dentons/Davis Brown, AssuredPartners and ServiShare. Also, a huge shout out to Albia Golf & Country Club! This event wouldn't have run so smoothly without the Judge family!
Mark your calendars for Saturday, October 8, 2022! This will be the next MCHC Foundation GLOW BALL TOURNAMENT! If you are interested in reserving your team's spot, please call 641-932-1795 or email foundation@mchalbia.com.
Interested in sponsoring? Great! Sponsorship opportunities include Tournament Sponsor for $500 (includes logo on tournament banner, tee sponsor signage, meal for four, radio and newspaper ads) or Hole Sponsor for $250 (includes logo on tee sponsor sign and meal for four).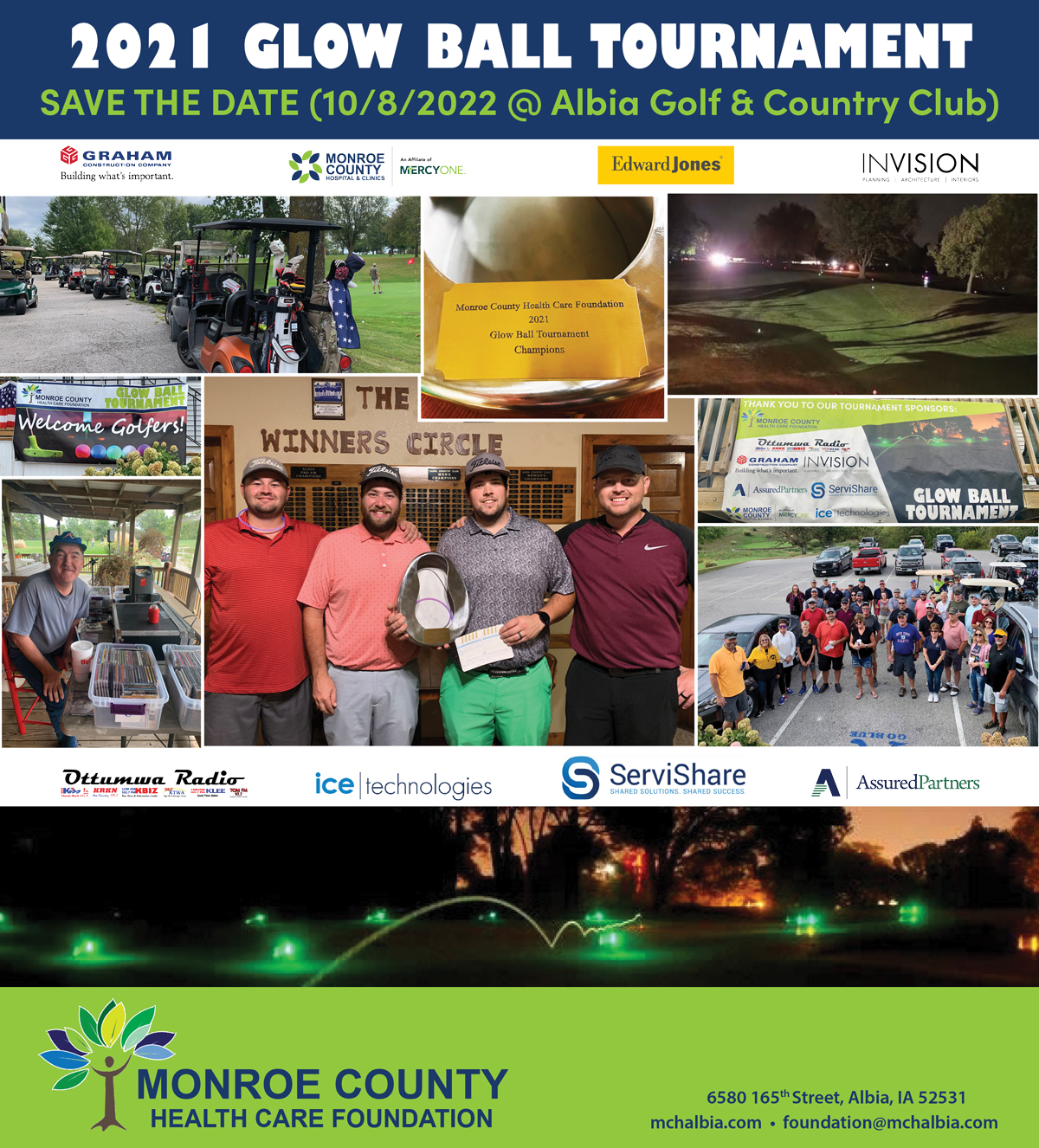 ***
About the Monroe County Health Care Foundation
The mission of the Monroe County Health Care Foundation is to build partnerships and broaden financial resources to sustain the healthcare programs, projects, and services of Monroe County Hospital & Clinics and the community.
As a 501(c)3 non-profit organization, the Monroe County Health Care Foundation's vision is to assist in promoting community projects and events that maintain and improve the health, wellness, and quality of life in the citizens of Monroe County and surrounding areas.
The Monroe County Health Care Foundation board includes Matt Foster, President, Tyler Boley, Vice-President, Lori Keller, Secretary/Treasurer, Wes Aeschliman, Director, Dan Stocker, Director, Ann Stocker, Director, Dan Tometich, Director and Erica Martinez, Director.
To learn more, please visit www.mchalbia.com/about/foundation/.