August 10, 2020
Albia, IA – Construction is booming at Monroe County Hospital & Clinics (MCHC)! Everything is moving forward, and the providers and employees cannot wait to share this new space with their friends and neighbors!
With construction, comes changes. Effective, Monday, August 17, 2020, the current West entrance that guides patients and visitors to the Emergency Room and Infusion Center will be closed due to construction. This entrance will be torn out and replaced. This entrance is also utilized by delivery services. Patients and visitors will be guided to a temporary entrance to access the Emergency Room, Infusion Center and delivery dock. The temporary entrance will be the next available entrance that sits near the middle of the Hospital property.
The temporary West entrance will be utilized by patients and visitors for approximately three weeks, pending weather. Signage will be posted to help guide patients and visitors for this short duration of time.
The East entrance will remain open and can be utilized by patients and visitors visiting the Medical Clinic, Susan Allison Outpatient Clinic, Radiology, Lab, Cardiac Rehab, Surgery, Rehab Services and Medical-Surgical Inpatient Floor. The East entrance is located nearest Homestead Assisted Living of Albia (also known as the old main entrance).
Moving forward, construction on the North parking lot of the Hospital campus has continued. Once completed, the parking lot will provide 82 parking spots, as well as a new drop-off and pick-up lane located near the new entrance on the North side of the facility. The MCHC construction project is scheduled for completion by early 2021.
Please see the map below for more details and directional guidance. Your patience and support are great appreciated.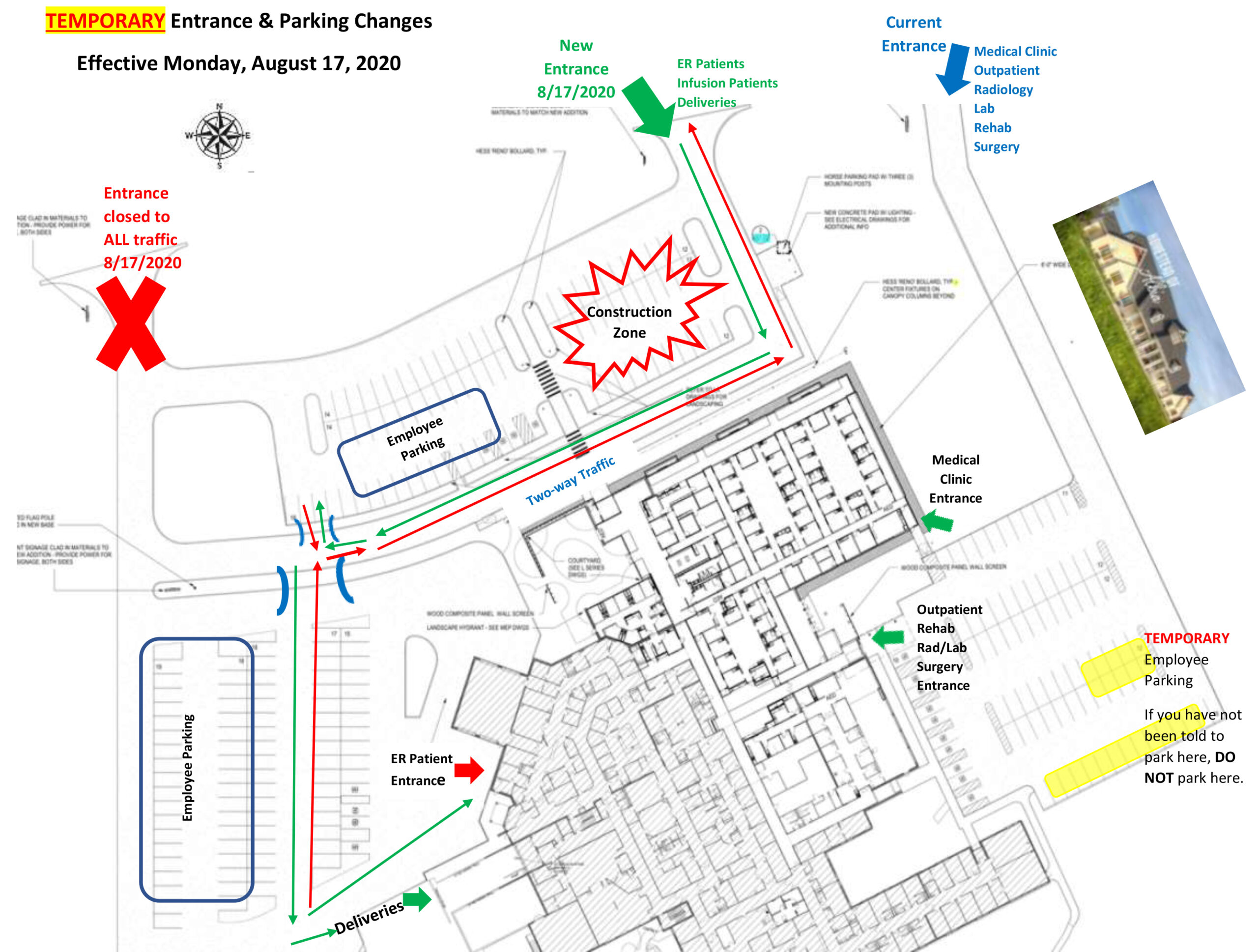 About Monroe County Hospital & Clinics
Established in 1951, Monroe County Hospital & Clinics (MCHC) is a trusted provider of high quality, local health care to the residents of Monroe County, IA and surrounding counties. Our highest mission is a promise to create an excellent health care experience. We believe it must be our number one priority to ensure the personal safety and security of each customer and employee. Our full-service, primary care hospital offers an array of inpatient and outpatient health services including surgical, clinical, specialty, physical therapy, cardiac rehabilitation, occupational therapy, emergency, sleep studies, pain management services and much more. Visit mchalbia.com for more information. This institution is an equal opportunity provider and employer.