---
Tuesday, December 24, 2019 – Monroe County Hospital & Clinics (MCHC), an affiliate of MercyOne, is excited to launch a new brand identity! Here at MCHC, we provide personalized care, social support, and a supportive environment while treating people with dignity, compassion and respect. Our new brand identity represents all these areas. This identity includes a new logo, colors, and font.
In February 2019, MCHC adopted the MercyOne name within the logo. MCHC Board of Trustees and Administrative Leadership Team members decided it was time to update the MCHC portion of the logo. After carefully considering multiple versions of a new brand identity; the MCHC Board of Trustees chose this logo as a representation of lifelong commitment in providing healthcare services for patients while continuing the strong relationship with the community.
Our new logo is intended to represent a sense of community, health, support and growth. It shows how all aspects of our mission come together as one. The leaves represent comfort and are a symbol of life and growth. The circular arrangement of the leaves signifies unity and represents the path of growth between MCHC, our patients, our visitors, our families, and our community. The Medical Cross signifies healthcare. The light green color unifies MCHC with MercyOne. The navy-blue color represents credibility, cleanliness, focus, stability, unity, wisdom, trust and loyalty.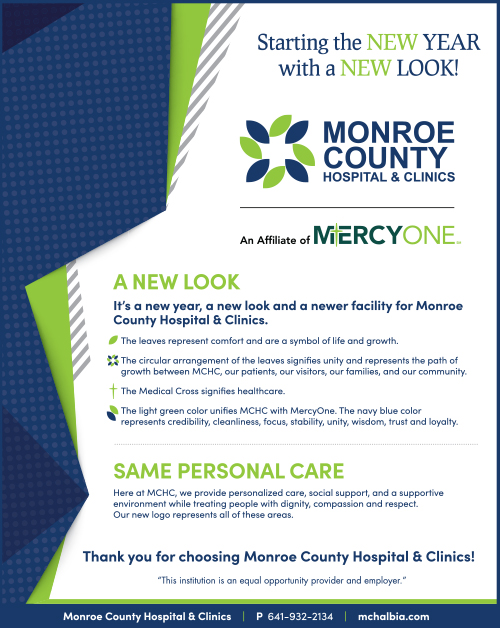 ---
"I am delighted to share MCHC's new brand identity with our patients and community," said Veronica Fuhs, CEO. "Many months of hard work have gone into creating and refining the brand. This new brand identity embodies everything about MCHC. Though the brand is changing, the exceptional care, supportive environment, and dedication to the community that MCHC has had in years past remains the same."
---
About Monroe County Hospital & Clinics
Established in 1951, Monroe County Hospital & Clinics (MCHC) is a trusted provider of high quality, local health care to the residents of Monroe County, IA and surrounding counties. Our highest mission is a promise to create an excellent health care experience. We believe it must be our number one priority to ensure the personal safety and security of each customer and employee. Our full-service, primary care hospital offers an array of inpatient and outpatient health services including surgical, clinical, specialty, physical therapy, cardiac rehabilitation, occupational therapy, emergency, sleep studies, pain management services and much more. Visit www.mchalbia.com for more information.