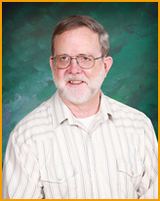 Dr. Ted Church, physician at the Monroe County Hospital Medical Clinic, has announced he will retire effective June 27, 2014.  Dr. Church has been with the Hospital for 3 years.   A community reception in honor of Dr. Church is being planned at Monroe County Hospital & Clinics for Wednesday, June 25th from 1:30-3:00 p.m. in the Conference Center.
Dr. Church was born in Cedar Rapids, Iowa.  He grew up in Washington State in Morton, a small town between Mt. St. Helens and Mt. Rainier.  He went to medical school at the University of Iowa in Iowa City.  It was at the University of Iowa he met his wife of 32 years.  His late wife, Jeanne Beary Church, was originally from the Albia area.  Ted and Jeanne have two children; a son who lives in Las Vegas, Nevada and works with autistic children and their families; and a daughter who graduated from Drake University in Des Moines, was a Captain in the Army via ROTC, and now is a teacher in Texas.  Dr. Church hopes to be able to spend more time with family and church activities and to enjoy outdoor sports.  He states that "while I enjoy interacting with and helping people with their health and medical issues, I am eager to take on less responsibility and do other things."
Dr. Gerald Haas added, "Dr. Church has been a great asset to Monroe County Hospital & Clinics and especially to his patients during his time here.  Patients and staff will all miss him, but wish him well in his new chapter of life."
Recruiting efforts have begun in filling Dr. Church's position at MCHC.