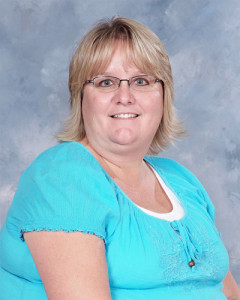 Teresa Kipfer, RN at Monroe County Hospital & Clinics is being honored with The DAISY Award for Extraordinary Nurses. The award is part of the DAISY Foundation's program to recognize the super-human efforts nurses perform every day.  The Award at Monroe County Hospital & Clinics is in cooperation with the Mercy Network.  This is the third year for the award.
Teresa Kipfer, RN in the Emergency Department was nominated for the award by her peers and chosen by the MCHC Leadership Team.  Gale Herrera, Chief Nursing Officer said, "Teresa is a major asset to our Emergency Department.  She gives outstanding physical and emotional care to each of her patients. Teresa has a special love for children, and has a reputation for making certain that their needs are met. This includes more than just an Emergency Room visit, but making sure kids don't go hungry or that they have the clothes they need. Teresa is obviously a very special nurse and is well deserving of the Daisy Award."
The not-for-profit DAISY Foundation is based in Glen Ellen, CA, and was established by family members in memory of J. Patrick Barnes.  Patrick died at the age of 33 in late 1999 from complications of Idiopathic Thrombocytopenic Purpura (ITP), a little known but not uncommon auto-immune disease.  The care Patrick and his family received from nurses while he was ill inspired this unique means of thanking nurses for making a profound difference in the lives of their patients and patient families.  This is one initiative of The DAISY Foundation whose overall goal is to help fight diseases of the immune system.  Additionally, DAISY offers J. Patrick Barnes Grants for Nursing Research and Evidence-Based Practice Projects and provides assistance to ITP support groups.  More information is available on their website www.DAISYfoundation.org.
At a presentation on June 6th in conjunction with the Mercy Network, Kipfer received a certificate commending her for being an "Extraordinary Nurse."  The certificate reads: "In deep appreciation of all you do, who you are, and the incredibly meaningful difference you make in the lives of so many people."  The honoree will also be given a beautiful and meaningful sculpture called A Healer's Touch, hand-carved by artists of the Shona Tribe in Africa.  Kipfer was honored at MCHC in May during Nurse's Week along with fellow DAISY nominees including Renee Wallace, Lori Vitko, Patti McDonough, Sharla Gardner, Verna Templeton, Shelly Susi, Julie Vander Linden, and Gale Herrera.