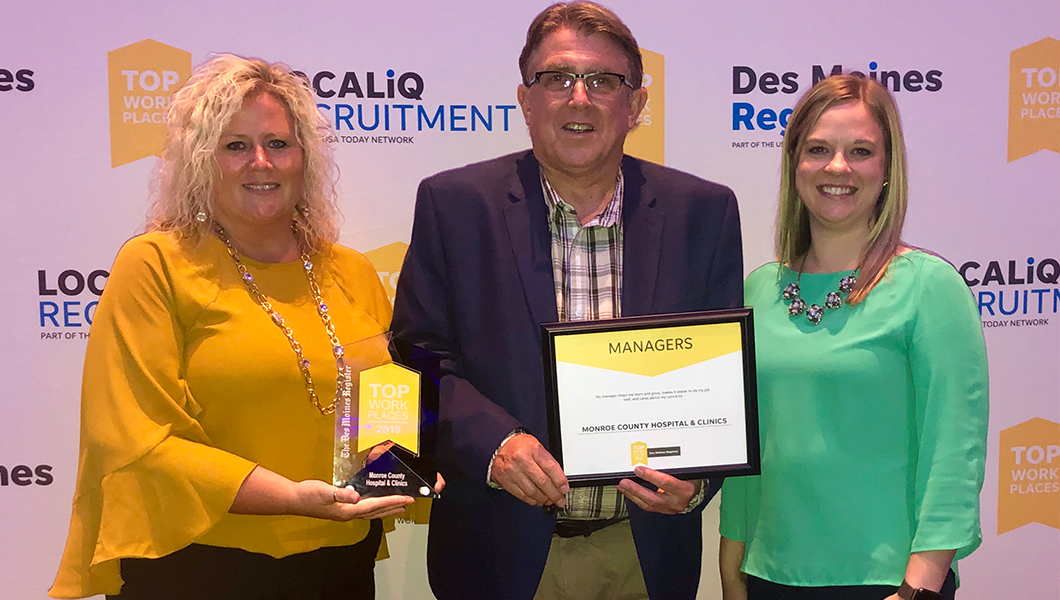 ---
(ALBIA, IA) (SEPTEMBER 16, 2019) – Monroe County Hospital & Clinics has been awarded a Top Workplaces 2019 honor by The Des Moines Register. The list is based solely on employee feedback gathered through a third-party survey administered by research partner Energage, LLC, a leading provider of technology-based employee engagement tools. The anonymous survey measures several aspects of workplace culture, including alignment, execution, and connection, just to name a few. "Top Workplaces is more than just recognition," said Doug Claffey, CEO of Energage. "Our research shows organizations that earn the award attract better talent, experience lower turnover, and are better equipped to deliver bottom-line results. Their leaders prioritize and carefully craft a healthy workplace culture that supports employee engagement."
"This honor speaks to the organizational culture at Monroe County Hospital & Clinic and all that each employee does to contribute. To receive this award four years in a row is an incredible achievement," said Veronica Fuhs, CEO. "Our employees are what makes Monroe County Hospital & Clinics a great place to work. It's what they do for each other, our patients, and our organization as a whole that is rewarding!"
In addition to this honor, MCHC ranked fourth overall for employee engagement out of 50 mid-sized organizations AND was named as the TOP organization out of all 135 workplaces for the outstanding relationships employees have with their manager. "Our leaders should be commended for their dedication to targeted employee engagement and overall care for our employees; making MCHC a great place to work," said Veronica Fuhs, CEO.
"Becoming a Top Workplace isn't something organizations can buy," Claffey said. "It's an achievement organizations have worked for and a distinction that gives them a competitive advantage. It's a big deal."
---
About Monroe County Hospital & Clinics
Established in 1951, Monroe County Hospital & Clinics (MCHC) is a trusted provider of high quality, local health care to the residents of Monroe County, IA and surrounding counties. Our highest mission is a promise to create an excellent health care experience. We believe it must be our number one priority to ensure the personal safety and security of each customer and employee. Our full-service, primary care hospital offers an array of inpatient and outpatient health services including surgical, clinical, specialty, physical therapy, cardiac rehabilitation, occupational therapy, emergency, sleep studies, pain management services and much more. Visit www.mchalbia.com for more information.
---
About Energage, LLC
Headquartered in Exton, Pa., Energage is a leading provider of technology-based employee engagement tools that help leaders to unlock potential, inspire performance, and achieve amazing results within their organizations. The research partner behind the Top Workplaces program, Energage has surveyed more than 57,000 organizations representing well over 19 million employees in the United States.