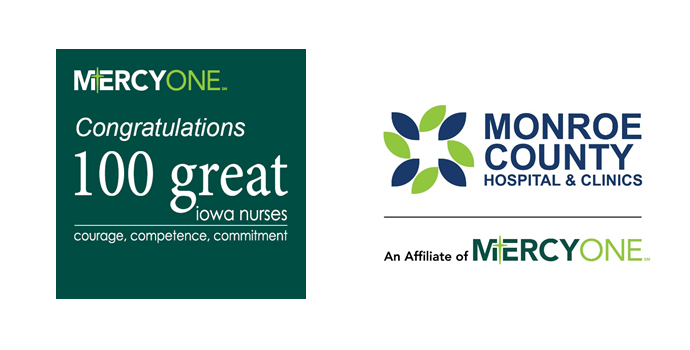 ---
Albia, Iowa; March 3, 2020 – Yesterday nurses across Iowa were announced as 2020 Great Iowa Nurses, an annual award recognizing nurses for their courage, competence and commitment to patients and the nursing profession. Of the 100 honorees, MercyOne congratulates 20 incredible nurses across their system of health services as Great Iowa Nurses.
"We are proud to have these amazing care givers in our Circle of Care," said MercyOne President and CEO Bob Ritz. "Their commitment to personalizing care for our patients, families and communities is truly remarkable. We thank them for their dedicated service."
Monroe County Hospital & Clinics (MCHC) is proud to announce that Brenda Finneman, RN, Employee Health & Infection Prevention Coordinator was named as an honoree of the 2020 list of 100 Great Iowa Nurses!
Each year, the 100 Great Iowa Nurses program asks for patients, coworkers, friends and family members to nominate outstanding nurses for recognition. After undergoing a two-part review process, 100 Great Iowa Nurses are awarded.
This year, Brenda Finneman was included in the review process. She was nominated by coworkers and will be recognized during a ceremony on May 3, 2020, in Des Moines.
"This award is well-deserved for Brenda, as she exemplifies the characteristics of a Great Nurse daily," said Monroe County Hospital & Clinics CNO, Gale Herrera. "Brenda excels at everything, but she is truly outstanding in the area of infection prevention. We especially appreciate her knowledge and attention to detail in all that she does."

---
Congratulations to the following MercyOne nurses:
Kimberly Anderson, MercyOne North Iowa
Jackie Bierman, MercyOne Dubuque
Kimberly Carstens, MercyOne Des Moines
Brittany Demmer, MercyOne Dubuque
Angela Ehlert, Van Diest Medical Center
Erin Feilmeier, MercyOne Clive Rehabilitation Hospital
Brenda Finneman, Monroe County Hospital
Kairee Graves, MercyOne Dubuque
Theresa Hamm, MercyOne Des Moines
Christine Hinshaw, MercyOne Newton
Stacy Hurst, MercyOne Des Moines
Chris Latta, MercyOne Northeast Iowa
Sue McCollom, MercyOne North Iowa
Pamela Pertzborn, MercyOne Des Moines
Kelly Rowlet, Kossuth Regional Health Center
Mindy Royster, Boone County Hospital
Natalie Shea, MercyOne Elkader
Robert Wethal, MercyOne Dubuque
Lori Whitmarch, MercyOne Clinton
---
About MercyOne
MercyOne is a connected system of health care facilities and services dedicated to helping people and communities live their best life. At more than 20,000 colleagues strong, MercyOne's care providers and staff make health the highest priority. The system's clinics, medical centers, hospitals and affiliates are located throughout the state of Iowa and beyond. Headquartered in central Iowa, MercyOne was founded in 1998 through a collaboration between Catholic Health Initiatives (now CommonSpirit Health) and Trinity Health – two of the country's foremost, not-for-profit Catholic health organizations.
---
About Monroe County Hospital & Clinics
Established in 1951, Monroe County Hospital & Clinics (MCHC) is a trusted provider of high quality, local health care to the residents of Monroe County, IA and surrounding counties. Our highest mission is a promise to create an excellent health care experience. We believe it must be our number one priority to ensure the personal safety and security of each customer and employee. Our full-service, primary care hospital offers an array of inpatient and outpatient health services including surgical, clinical, specialty, physical therapy, cardiac rehabilitation, occupational therapy, emergency, sleep studies, pain management services and much more. Visit www.mchalbia.com for more information.