Tomato and Red Pepper Dip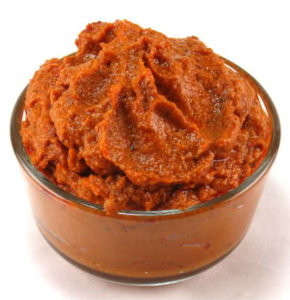 Ingredients:
1 jar (12 oz.) roasted red peppers, rinsed and drained 1 can (15 oz.) white beans, rinsed and drained 1/4 cup tomato paste, preferably reduced sodium 2 garlic cloves, minced 3 Tbsp. lowfat mayonnaise 1 tsp. dry oregano 1 tsp. ground cumin 1/4 tsp. ground chili powder or pinch cayenne pepper Salt and freshly ground black pepper, to taste>
Instructions:
Coarsely chop peppers. Place in food processor or blender and puree. Add beans, tomato paste, garlic, mayonnaise, oregano, cumin and chili powder or cayenne. Process to smooth puree. Season to taste with salt and pepper. Let stand one hour before serving. Keeps up to 3 days, tightly covered and refrigerated. Makes 2 1/4 cups.
Nutritional Information:
Per 2 tablespoons: 32 calories, <1 g total fat (<1 g saturated fat), 6 g carbohydrate, 1 g protein, 1 g dietary fiber, 120 mg sodium.