Iced Almond Chai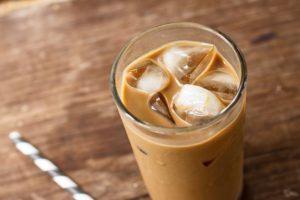 3 green cardamom pods, cracked
1 (3-inch) stick cinnamon
2 whole cloves
1/2 tsp. anise seed
1 tsp. black peppercorns
3 cups cold water
3 black teabags
3 chai teabags with black tea
3 cups boiling water
1 1/3 cups unsweetened almond milk, chilled
8 – 10 tsp. agave syrup, preferably dark
For the chai, combine the cardamom, cinnamon, cloves, anise, and peppercorns in a medium saucepan. Add the water, and bring to a boil over medium-high heat. Cover, reduce the heat, and simmer 5 minutes. Off the heat, add the black teabags, cover, and steep for 5 minutes. Remove the teabags, squeezing them well. Pour the chai into a heat-proof jar and cool to room temperature. Cover and refrigerate for up to 3 days. Strain the chai when ready to use, and discard the spices.
For ice cubes, in a heatproof measuring cup, pour the boiling water over the 3 chai tea bags and steep for 10 minutes. Divide the tea between two ice cube trays and cool to room temperature, then freeze into cubes.
To serve, place 6 chai ice cubes in each of four 12-ounce glasses. Pour in 1/2 cup of the strained, chilled chai. Add 1/3 cup almond milk and sweeten to taste, using 2 to3 teaspoons agave syrup per serving.
Makes 4 servings, 4 cups
Per serving: 60 calories, 1 g total fat (0 g saturated fat), 13 g carbohydrate, 0 g protein,
0 g dietary fiber, 50 mg sodium