Spiced Cranberry Pears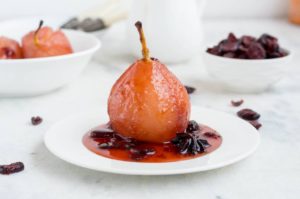 Give canned pears gourmet appeal by gently simmering them with dried cranberries and spices. The result is so good people will think the recipe came from a celebrity chef.
Ingredients:
3 cups cranberry-raspberry juice
1/2 cup dried cranberries
2 strips orange zest, 2-inches x 1-inch
1/2 tsp. ground allspice
Pinch of ground cloves (or more, if desired)
Two cans (15 oz. each) pear halves in concentrated juice
Instructions:
Place cranberry-raspberry juice, cranberries, zest and spices in a deep saucepan. Bring to boil over medium-high heat. Reduce heat to medium and cook until mixture is reduced to about 2 cups, about 10 to 12 minutes.
Meanwhile, drain pears, reserving liquid for another use. (The juice makes a refreshing beverage mixed equally with club soda.) Place pears in a serving bowl. Pour hot liquid over pears. Set aside to cool and let sit 20 minutes at room temperature before serving. (Pears keep 3 to 4 days, refrigerated.)
Makes 5 to 6 servings.
Per serving: 183 calories, less than 1 g. total fat (0 g. saturated fat), 46 g. carbohydrate, less than 1 g. protein, 3 g. dietary fiber, 8 mg. sodium.