Apple Spice Bread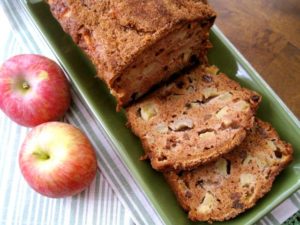 A mixture of white and whole wheat flour adds fiber to this tasty quick bread. This recipe freezes well.
Ingredients:
Cooking spray 2 medium Granny Smith apples (about 2 cups) 3 Tbsp. fresh lemon juice 1 cup all-purpose flour 1 cup whole wheat flour 2 tsp. baking powder 1 1/2 tsp. ground cinnamon 1/2 tsp. allspice 1/4 tsp. salt 3/4 cup packed light brown sugar 3 Tbsp. canola oil 1 egg, lightly beaten 1 tsp. vanilla extract Pinch of nutmeg (optional)
Instructions:
Preheat oven to 350 degrees. Coat 9-inch loaf pan with cooking spray. Peel and grate apples. Toss with lemon juice to prevent browning.
In large bowl, combine flours, baking powder, cinnamon, allspice and salt. Mix well. Make well in center and set aside.
In medium bowl, combine apples, brown sugar, canola oil, egg and vanilla. Mix well. Add mixture to dry ingredients and mix until just blended. Transfer batter to prepared pan.
Bake 1 hour, until wooden pick inserted near center come out almost clean (to preserve moistness). Cool in pan on wire rack, 10 minutes. Remove from pan and cool completely.
Makes 10 servings.
Per serving: 206 calories, 38 g carbohydrates, 2 g dietary fiber, 5 g total fat (<1 g saturated fat), 4 g protein, 170 mg sodium.