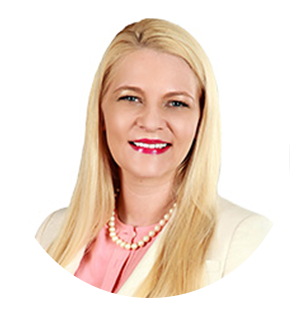 Katie is a House Supervisor for the Medical-Surgical floor for Monroe County Hospital & Clinics (MCHC). Her educational history includes an Associates of Arts Degree (AA), Associates Degree in Nursing (ADN), and is currently working towards her Bachelor's Degree in Nursing (BSN).
The Medical-Surgical nursing field is one of the single largest nursing specialties in the United States. This unit primarily cares for adult patients who are acutely ill with a wide variety of medical issues or are recovering from surgery. As a House Supervisor, Katie leads by example, holds excellent verbal and written communication, and problem solving skills. Some of Katie's tasks include: scheduling, planning and coordination of medical and health services, ensuring all codes are met and providing administrative leadership of nursing services on weekends, holidays, and even off-shifts such as evenings and nights.
"Several people and life experiences have shaped me into who I am today and for that I am truly blessed. My mother had a big influence in my upbringing and many other great mentors have lead me to where I am at today," expressed by Katie.
One of Katie's main goals is to travel the world. Her love for travel and ambition to see the world in a new perspective started young. As a child, Katie dreamed of becoming an International Pilot. Flying may or may not be for everyone, but for Katie, the thought of actually crossing the threshold from dreams to reality is a whole different story. While her dreams may still linger, Katie has made a go in the patient care perspective world. Katie shares, "what I love most about my career is that every day, I find myself learning something new and I enjoy change. The more I can give to myself professionally and personally, the more wonderful care my patients receive."
As a proud born and raised citizen of Albia, Katie is well versed regarding MCHC. In her later years of general education, Katie moved to Brooklyn, NY. After embracing the rushed and high speed atmosphere, she decided to move back to the small town of Albia, IA. Katie's mother helped her through this transition and informed her regarding a job opportunity available within MCHC. "What I find more remarkable is, MCHC truly is family oriented. They are always giving back and helping out when there is a need. I also like that MCHC offers so many educational opportunities," stated by Katie.
Katie shares this one piece of advice, "My advice to others is remember we are doing this together to serve the greater good of the people. Be kind to one another and live life to the fullest!"
MCHC is a trusted provider of high-quality, local health care to the residents of Monroe County, IA and surrounding counties. To learn more, please visit www.MCHAlbia.com.