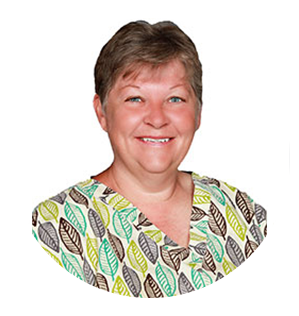 Sherry Lippert joined the MCHC Team in the fall of 2002 as our Dietary Manager. She was excited for this opportunity and thought MCHC would be a place where she could make a difference to others and be able to grow within her profession. Fifteen years later, Sherry feels that being able to help people, both patients and her employees, is the best part of her job.  Sherry is a Certified Dietary Manager (CDM) and a Certified Food Protection Professional (CFPP). Sherry received her Associates Degree in Bakery and Commercial Food Service from Indian Hills Community College.
Sherry's childhood dream job was to work outside, preferably in park service. She has always loved the outdoors and even at a young age, would choose the outdoor chores rather than cooking and cleaning inside. Mr. Alexander, Sherry's 8th grade teacher inspired her to become what she is today. She participated in bake sales at school and mastered her sugar cookie recipe after a few failed attempts. Mr. Alexander told her, "You should become a baker." He encouraged her and told her that she had the knowledge and ability to obtain a college degree and that's exactly what she did.  When asked about her main goal in life, Sherry replied, "surviving the day and knowing that I did the best that I could." Sherry's words of wisdom or advice to others is "Enjoy what you have in life." Sherry grew up in Blakesburg, Iowa and now resides in Albia with her husband David. Sherry and David have 3 children and 2 grandchildren.
MCHC is a trusted provider of high-quality, local health care to the residents of Monroe County, IA and surrounding counties. To learn more, please visit www.MCHAlbia.com.